Not all diamonds are created equal
Along with all the excitement that comes from just getting engaged, also comes the revelation of what the ring looks like. For most, the center stone is what will catch the eye. The Diamond should uniquely express how pure and everlasting the love between you truly is. So when shopping for that special ring, for that special someone, it is important you know what to look for to make the right decision.
At M.Pope & Co. we go way beyond the 4'c (Cut, Color, Clarity, Carat) to ensure that you're getting a diamond that performs to your expectation. Diamond performance is essential to understanding the value and ultimately what price you're going to pay for a diamond. You've learned the 4c's and that is an excellent start, but there is more to know in order to get a spectacular diamond at a great value. Our goal is to educate you so you understand what impacts price and performance. Beyond the 4c's – What to Take into consideration when selecting your diamond: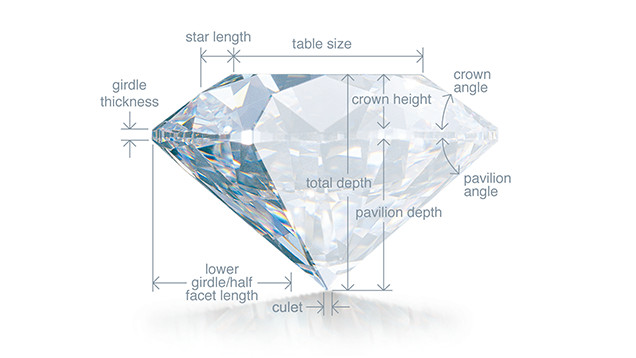 Cut
The manner in which the diamond is cut will determine its brilliance.

Color
The less color you see, the better. Colorless will have a greater value.

Clarity
A diamond with few imperfections will be more valuable and have a higher clarity grade.

Carat
Measurement of the mass or weight of the diamond.
Man vs. Nature
Let's start here. What Mother Nature does to a diamond impacts how rare a diamond is, the rarer an attribute, like color or clarity, the higher the price.
The Perfect Cut (Ideal and Excellent)
You want a diamond with high performance, one that sparkles. Our best performing diamonds start with an Ideal Cut Grade (AGS) or an Excellent Cut Grade (GIA).
Table Size and Depth Dimensions
Think of the flash of light versus the spectrum light (light from prism). Varying a diamonds table and depth can give you more white light (flash) but potentially less spectrum light (fire – red, greens, blues, etc) or the inverse can be true. We balance the table to depth ratios so you get the optimal balance of the white light (flash) and the spectrum light (fire).
Rating for Color and Clarity
Not all color and clarity grades are equal, especially among different laboratories. We find some SI1's are better than other SI1's by the nature, color, quantity or location of the inclusions. Did you ever get a grade in school that just wasn't fair? Diamond grading can be like this too.
The Diamonds Polish
Excellent or Ideal polish is critical in achieving clear dispersion, sharp scintillation and maximum brilliance. It takes time to polish the facet to a bright and smooth finish. Just as minute scratches can dull a glass surface, a poor polish on a diamond can reduce the brightness of its sparkle.
The Diamonds Symmetry
The light performance of a diamond depends on the cutter's decision on the angles and placement of the facets and the skill to place those facets at precise angles.
Girdle Thickness
Cutters know how to 'swindle' proportion sets to maximize weight at the expense of beauty. They choose to retain the weight of a diamond while invariably sacrificing its optical performance. The result is that you pay more for a diamond that looks smaller and under performs.
Fluorescence
In colorless or near colorless diamonds, we recommend no fluorescence, albeit there can be exceptions depending on the diamond's shape and the customer's preference.
Clarity Enhancement
This refers to laser drilling and then fracture filling a diamond with glass. Okay, maybe it's not actually glass but whatever they inject into the diamond is not okay with us.
Culet Size
We try to avoid large, very large or extremely large culets.
Stone Certifications and Lab Reports
AGS and GIA are the only labs to use in our opinion because they are the most consistent, stringent and respected for their reporting. We use these labs to qualify diamonds for our review process.